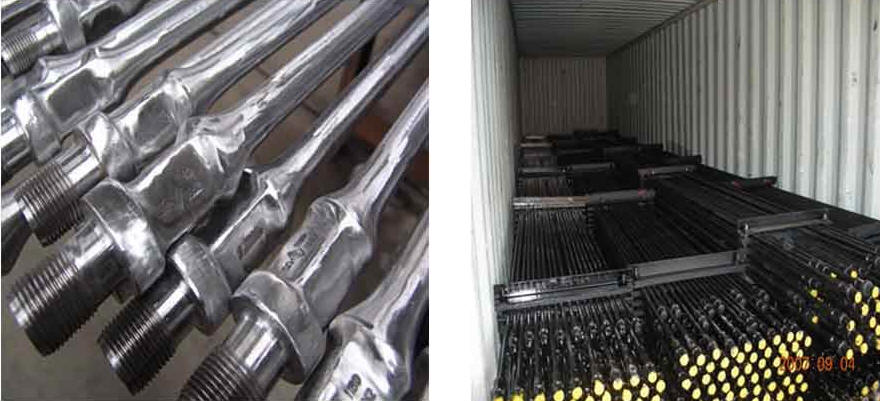 Sucker Rod Submit Energy
API 11B standard sucker rod;
Design to be used with moderate to heavy loads in non-corrosive or effectively inhibited wells. Our Sucker Rod is complying with API SPEC 11B Specification to manufacture. From the process of defect detection, selection of high quality of alloy steel and then process to straightening, forging, fault detection, quenching, flash back, impeller blasting, assembly, packing, painting, the final product then will be stored in the warehouse. Using fluorescent magnetic fault detection and imported Eddy current inspection instrument to inspect sucker rod head and the rod body, the quality of the product is being assured.
The performance of the D Alloy Grade Sucker Rod is excellent, price competitive, safe, and lower the oil extraction cost significantly.
Other material of Grade D Sucker Rod: Carbon Steel is also available from us based on customer's special request. We provide high strength H grade sucker rod, polished rod, pony rod, sucker rod coupling and rod clamp, stuffing box.
Mechanical property of API Grade D Sucker Rod
specification (in)

length (ft)

Mechanical Performance

Tensile strength σb MPa

yield point σ s MPa

200mm elongation δ%

reduction of area φ%

Airy impact toughness AKVJ

fatigue strength

σ0.1MPa

cycle

5/8 3/4 7/8

1" 1 1/8"

2-30

793~965

≥620

≥10

≥50

≥60.8

400

≥1×106
Mechanical property of Grade HL(Equal to Norris97)Sucker Rod
specification (in)

length (ft)

Mechanical Performance

Tensile strength σb MPa

yield point σ s MPa

200mm elongation δ%

reduction of area φ%

Airy impact toughness AKVJ

fatigue strength

σ0.1MPa

cycle

5/8 3/4 7/8

1" 1 1/8"

2-30

965~1035

≥793

≥10

≥45

≥60

540

≥1×106
Chemical composition
| | | | | | | | | |
| --- | --- | --- | --- | --- | --- | --- | --- | --- |
| TYPE | C% | Mn% | P% | S% | Si% | Ni% | Cr% | Mo% |
| Grade D | 0.17-0.24 | 0.40-0.70 | ≤0.025 | ≤0.025 | 0.17-0.37 | ≤0.30 | 0.80-1.10 | 0.15-0.25 |
| HL(Norris 97) | 0.26-0.33 | 0.40-0.70 | ≤0.025 | ≤0.025 | 0.17-0.37 | ≤0.30 | 0.80-1.10 | 0.15-0.25 |
Sucker rod Weights
Rod Type

Weight

(lb/ft)

(kg/m)

5/8"

1.114

1.657

3/4"

1.634

2.432

7/8"

2.224

3.310

1"

2.904

4.322

1 1/8"

3.676

5.471
Coupling sizes and weights
Type

OD(in)

Weight(lb/kg)

standard

slimhole

standard

slimhole

5/8"

1-1/2

1-1/4

1.30

0.59

1.00

0.45

3/4"

1-5/8

1-1/2

1.50

0.68

1.26

0.57

7/8"

1-13/16

1-5/8

1.80

0.82

1.50

0.68

1"

2-3/16

2

2.58

1.17

2.01

0.91

1 1/8"

2-3/8

--

3.13

1.42

--